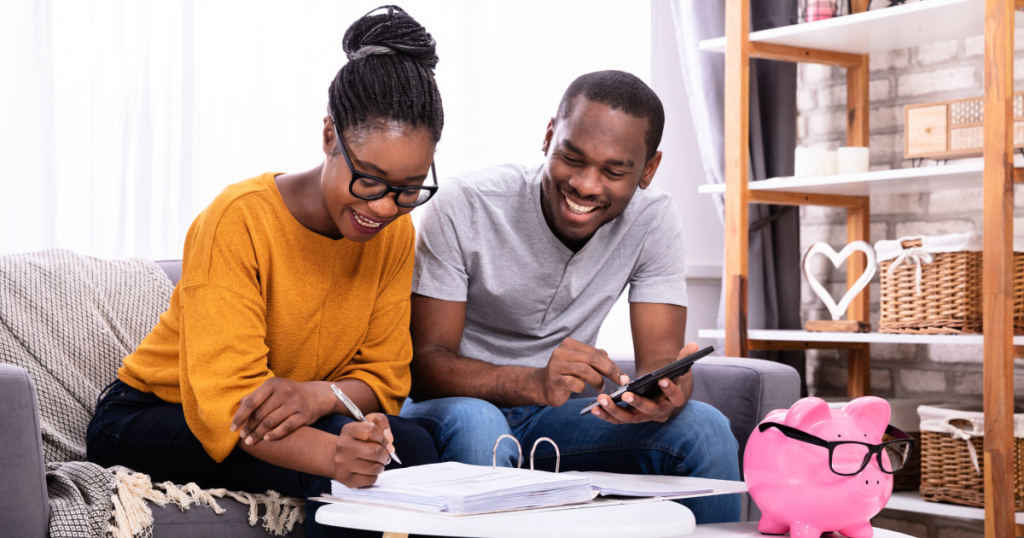 The U.S. should join the more than 50 countries with financial inclusion strategies; financial services exclusion among communities of color and low-income households hindered access to pandemic aid.
Today, 38 public and private sector organizations came together to call for the creation of a national financial inclusion strategy. Financial and tech sector companies, consumer advocacy nonprofits, and many others released a letter calling for the U.S. Treasury Department to establish a Presidential Commission to create a national, interagency financial inclusion strategy. Supporting calls by U.S. Senators Chris Coons, John Hickenlooper, and Raphael Warnock, the letter to the Treasury Department seeks for the commission to help the U.S. address the decades-long gaps in access to banking and other financial services that contribute to poor financial outcomes for 35 million people in the U.S. Black, Hispanic, and American Indian or Alaska Native households are disproportionately excluded.
"Profound gaps in access to and take-up of key financial services must be addressed for families to access the wealth and prosperity generated by the U.S. economy," said Ida Rademacher, Vice President at the Aspen Institute and Executive Director of the Financial Security Program. "The U.S. requires a national strategy to help federal agencies and the financial services industry understand their roles in these persisting inequities, develop coordinated strategies, and create the tools necessary to build a more inclusive financial system."
Exclusion from financial systems created gaps in accessing aid during the economic downturn caused by COVID-19. Delays and lack of access to direct payments and credit during the pandemic were disproportionately borne by poor households and communities of color, often driven by barriers to traditional banking or financial services. The letter calls for closing those gaps: "Making sure that every person in America has easy access to safe and affordable bank accounts, payment tools, saving and retirement accounts, credit, insurance, and safety net programs when needed would be a critical—and monumental—step toward an inclusive economy."
"While US financial systems are becoming increasingly more accessible, they remain inequitable," said Shamina Singh, founder and president of the Mastercard Center for Inclusive Growth. "Building more inclusive financial systems in the U.S. would put us on equal footing with global trends. More than 50 countries have implemented national financial inclusion strategies. It is critical and urgent to ensure our financial services and tools are designed for inclusion and to maintain trust in this rapidly changing technology landscape."
Find the full text of the letter and signatories below.
America Needs a National Financial Inclusion Strategy
Dear Secretary Yellen and Deputy Secretary Adeyemo:
As the economy emerges from the effects of the Covid-19 pandemic, we find ourselves at a historic moment of opportunity to reshape our economy and ensure that everyone in the US benefits from the economic recovery. Access to and utilization of financial services will be essential for households and businesses to achieve short-term stability and build long-term financial security during this time. But gaps in financial inclusion in the US require urgent action to ensure an inclusive recovery. Historic economic and social disparities, highlighted by Covid-19 and disproportionately borne by communities of color, have led to growing commitments from leaders across the financial sector to address these inequities. Financial institutions, both national and community-based, have made significant commitments to better serve those who have been historically underserved. Nonprofits and advocacy organizations have accelerated new emergency programs to reach communities and households at risk. Immediately upon taking office, the Biden Administration took the important step of making support for racial equity and underserved communities a top priority for federal agencies. While each sector is doing what it can to build an inclusive financial system to fully address the systemic barriers to financial inclusion, we need to coordinate meaningful action at the highest levels.
For too long, the US has taken a fragmented approach to financial inclusion. It is time to bring together actors across sectors to establish a shared vision for how policy, products, and business models can create the inclusive financial systems required to generate an inclusive and sustainable economy. To ensure a coordinated approach to building truly inclusive financial systems at scale in the US the undersigned support the establishment of a Presidential Commission to create a national, interagency financial inclusion strategy, as called for by US Senators Chris Coons, John Hickenlooper, and Raphael Warnock.
For decades, exclusion within our financial systems— particularly for people of color and those living in rural communities—has made it difficult for Americans to achieve financial security. According to the latest data from the FDIC, more than 7 million households in the US remain unbanked, with Black, Hispanic, American Indian or Alaska Native households being disproportionately excluded. These gaps are even starker for other financial services. As our economy becomes increasingly digitized, it is even more imperative that the new, technology-driven ways of storing, lending, saving, sending, and investing money are designed for inclusion from the start to address these persistent divides. Making sure that every person in America has easy access to safe and affordable bank accounts, payment tools, saving and retirement accounts, credit, insurance, and safety net programs when needed would be a critical—and monumental—step toward an inclusive economy. We must also design our financial systems to push beyond access alone; people must also be able to engage with, utilize, and reap the benefits of financial tools and services in ways that help them build both short-term stability and long-term financial security. This would allow us all to enjoy a more stable, resilient, and prepared economy when—not if— the next economic downturn happens.
The Biden Administration has committed to a comprehensive and equitable recovery, and a Presidential Commission on financial inclusion will help ensure the sustainability of a robust and fairer economy. Composed of a mix of senior government officials, members of historically excluded communities, consumer advocates, and financial services experts and practitioners, the Commission would be instrumental in creating and implementing a national financial inclusion strategy. Such a commission would further have the responsibility of supporting a financial system built for the future with the flexibility to ensure that emerging technologies are designed in an inclusive and equitable manner with proper consumer protections in place. In order to ensure that all communities and households benefit from the emerging economic recovery, this work must begin as soon as possible.
This broad coalition of public and private sector stakeholders represents a diverse set of industries and interests and understands the importance of establishing a national strategy and commission to build inclusive financial systems. We are ready to work with stakeholders in government to establish and advance a shared vision for national financial inclusion. We look forward to working with the Biden Administration in the coming months on how, collectively, we can ensure that building equitable and sustainable financial systems today that can produce positive financial security outcomes for generations to come. We look forward to beginning the important work of this commission.
Signatories
Accion Opportunity Fund
AIR – the Alliance for Innovative Regulation
American Fintech Council
Aspen Institute
Bank Policy Institute
Black Economic Alliance
BMO Financial Group
Capital One
Citi
Code for America
Commonwealth
DailyPay
Defined Contribution Institutional Investment Association (DCIIA)
Financial Health Network
H&R Block
Hope Credit Union
Inclusiv
Intuit
Lively
Mastercard
Mission Asset Fund (MAF)
Morningstar, Inc.
National Bankers Association
Oportun
PayPal
Plaid
PolicyLink
Prosperity Now
Prudential
Saverlife
Steady
Treasurer's Office, State of Illinois
Treasurer's Office, State of Maine
UnidosUS
Urban League
Varo Bank
Visa
Wells Fargo
To add your name to this letter of support fill out this form.