FOR IMMEDIATE RELEASE
Media Contacts
Rachel Peace
rpeace@globalstrategygroup.com

Eden Godbee
egodbee@elcinfo.com
The virtual event convened public, private and social sector experts to share insights on how corporate leaders can educate and advocate for the financial empowerment of Black employees and communities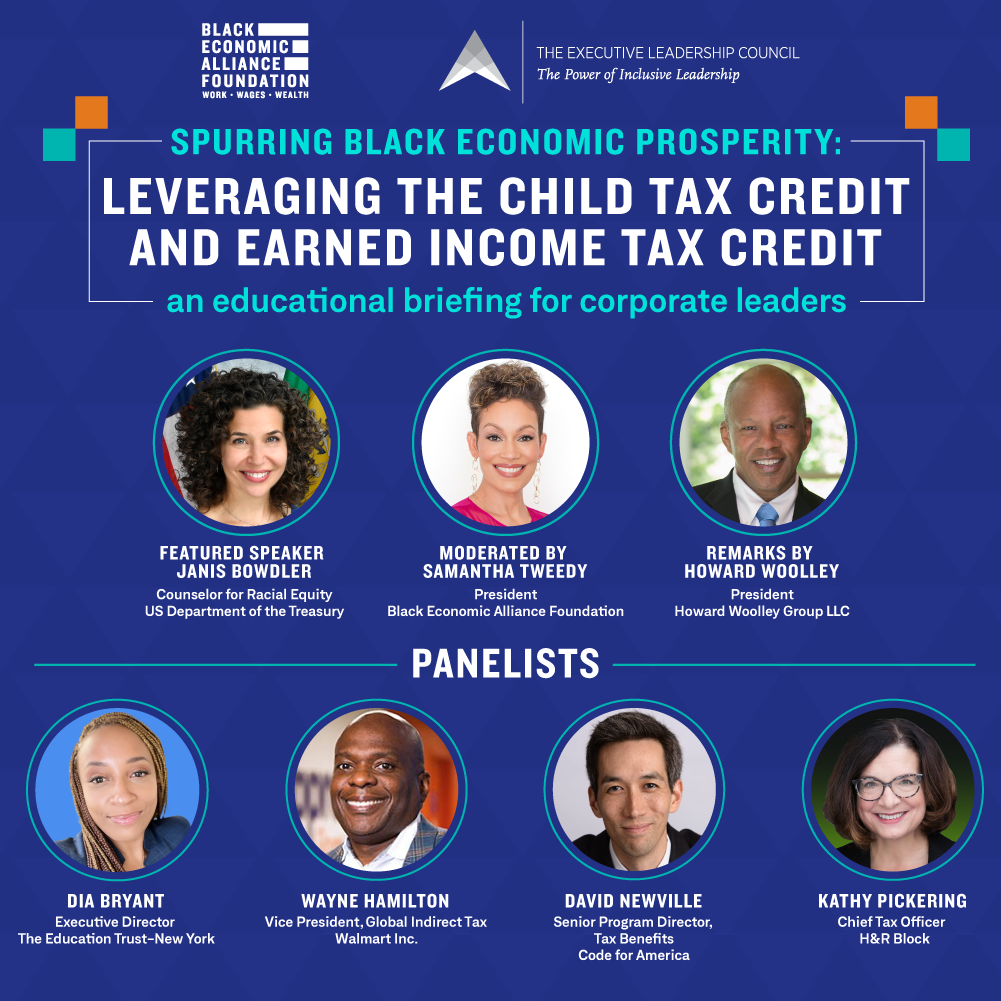 New York, NY – (April 7, 2022) Today, the Black Economic Alliance Foundation (BEA Foundation), a national nonprofit organization that promotes generational wealth-building for the Black community, co-hosted a virtual event in partnership with the Executive Leadership Council (ELC). The multifaceted discussion, "Spurring Black Economic Prosperity: Leveraging The Child Tax Credit And Earned Income Tax Credit," is part of a dedicated campaign to raise awareness of the temporary expansions of these bipartisan policies and their corresponding economic benefits, and to spur corporate leaders to engage in advocacy around their permanent expansion.
"Equitable policymaking is essential to a stable democracy and the business community has a role to play in bridging the divide between the private and public sectors in advocating for systemic changes to the tax code that will drive economic prosperity for the Black community," said Samantha Tweedy, President of the Black Economic Alliance Foundation. "We're thankful to our expert guest speakers for sharing actionable insights for corporate leaders on how they can ensure their employees and communities claim the temporarily expanded Child Tax Credit and Earned Income Tax Credit. Together, we can help ensure that Black Americans don't leave money on the table this year."
While the CTC was expressly intended to help struggling families, since its enactment in 1997, it has not been fully available to 50 percent of the Black children in this country, compared to just 20 percent of white children, because their families' incomes were too low. And the EITC, enacted by President Ford, is intended to credit working, low-income Americans. However, nearly 6 million vulnerable workers—17% of whom are Black—are actually unintentionally taxed further into poverty each year as a result of the EITC not providing them enough of an income boost.
However, beginning in 2021, for the first time since its enactment, the Child Tax Credit included a temporary increase and refundability provision that made it fully available to families whose incomes are too low to owe any federal income tax and distributed those payments periodically, instead of just once per year during tax season. This change in policy helped prevent millions of families from slipping into poverty during the pandemic and allowed working parents to start building savings to offset future economic downturns. Additionally, under the temporary EITC expansion, more grocery store clerks, home health aides, and food servers–all industries that employ disproportionately high percentages of Black workers, the very same who have stepped up valiantly to be frontline workers during the pandemic—now stand to benefit.

As such, the Black Economic Alliance Foundation is working to raise awareness of claiming these temporary expansions, which if made permanent and fully refundable at current levels—$3,600 per child for children under five and $3,000 per child for children between six and seventeen for CTC with a new maximum of $1,500 for childless workers under EITC—have the power to set millions of Black families on an upward path toward long-term economic and social mobility.
"The Executive Leadership Council (ELC) was proud to support this event because we believe public accountability and sound policy are effective ways to create sustainable racial equity measures," said Executive Leadership Council President and CEO Michael C. Hyter. "One tool we've seen the government use to encourage economic activity has been the tax code. Research has shown that Black workers are disproportionately represented in low-wage occupations and underrepresented in high-wage occupations. The EITC and the CTC represent ways smart tax policy can support creating greater equity for America's most vulnerable workers."
The event began with a fireside chat between BEA Foundation President Samantha Tweedy and special guest speaker Janis Bowdler, the US Department of the Treasury's first Counselor for Racial Equity. Following remarks from ELC and BEA member Howard Woolley, Tweedy commenced the panel conversation which included leaders from Code for America, The Education Trust–NY, H&R Block and Walmart.

The Foundation's long-term goal is to catalyze fundamental policy changes that would right historic wrongs, enabling Black Americans to leverage the tax code in a way that builds generational wealth and grows the entire American economy. As part of its awareness and advocacy campaign, BEA Foundation launched an online hub to share information with the Black community about the temporarily expanded credits and elevate resources that make claiming them free and easy. The portal also incorporates tools to facilitate advocacy for the permanent expansion of these longstanding, bipartisan policies, to ensure those who stand to benefit most get the money that is owed to them.
You can watch the panel discussion here.
###
About the Black Economic Alliance Foundation
The Black Economic Alliance is a coalition of Black business leaders and allies committed to driving economic progress for the Black community with a focus on work, wages, and wealth. The BEA Foundation is the 501c3 charitable nonprofit affiliate of the Black Economic Alliance. The BEA Foundation works with leaders in the private, public, and nonprofit sectors to produce, research, and analyze data to diagnose the obstacles to Black economic mobility and prescribe practical solutions to create better access to good-paying jobs, a living wage, and wealth creation for Black people. The BEA Foundation also crafts programs that convene leaders across industries around initiatives that will produce better economic outcomes for Black people. For more information, visit: foundation.blackeconomicalliance.org
About The Executive Leadership Council
The Executive Leadership Council opens channels of opportunity for the development of Black executives to positively impact business and our communities. An independent non-profit 501(c)(3) founded in 1986, The ELC is the pre-eminent membership organization committed to increasing the number of global Black executives in C-suites, on corporate boards and in global enterprises. Comprising nearly 800 current and former Black CEOs, senior executives and board directors at Fortune 1000 and Global 500 companies and entrepreneurs at top-tier firms, its members work to build an inclusive business leadership pipeline that empowers global Black leaders to make impactful contributions to the marketplace and the global communities they serve. For more information, please visit www.elcinfo.com.