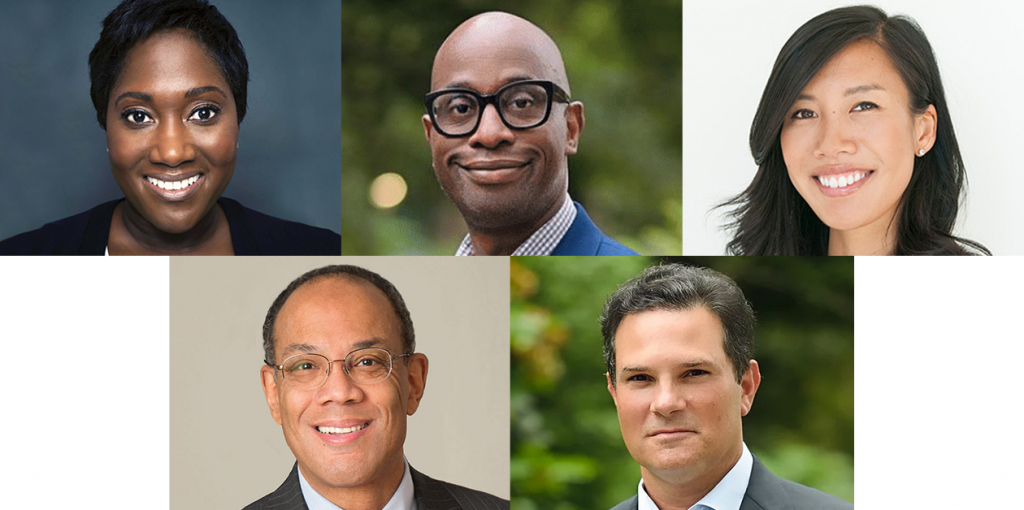 Media Contacts

Stephanie Báez
sbaez@globalstrategygroup.com

Victoria Dellacava
vdellacava@globalstrategygroup.com
WASHINGTON, D.C. – (December 3, 2021) The Black Economic Alliance (BEA), a nonpartisan group of Black business leaders, welcomed Lisa Opoku, John W. Rogers, Jr., Brian Mathis, Natalie Tran, and Jon Henes to the BEA Advisory Board.
"BEA's work has only become more important and impactful since its founding just a few years ago," said Tony Coles, Co-Chair of BEA; Executive Chairman and CEO of Cerevel Therapeutics. "I'm looking forward to BEA benefitting from the diverse experiences of our new Advisory Board members, as we continue to expand the reach of the organization."
"We're extremely fortunate to have access to the knowledge and skills our new Advisory Board members bring to the table," said Charles Phillips, Co-Chair of BEA; Managing Partner and Co-Founder of Recognize. "With deeply experienced and passionate individuals on our Advisory Board, BEA continues to grow and make lasting, impactful change."
"One of BEA's most powerful assets is the strength and reach of its network," said David Clunie, BEA Executive Director. "I look forward to learning from and strategizing with this impressive group of leaders on how BEA can continue to advance wealth building for Black Americans at scale."
Lisa Opoku is a partner and the global chief operating officer of Engineering at Goldman Sachs in New York. Prior to Goldman Sachs, Opoku was a tax and corporate attorney. She practiced in Silicon Valley on venture capital financings and in New York on distressed debt transactions.
"I'm honored to join the BEA Advisory Board. I look forward to helping champion and support new ways of building Black wealth at scale," said Lisa Opoku, BEA Advisory Board Member. "This work will be a model for the way institutions – across every industry – should be doing business. I look forward to bringing my experience and networks to this very important work."
John W. Rogers, Jr. is the founder, chairman, co-chief executive officer and chief investment officer of Ariel Investments, the first Black-owned asset management firm in the U.S. He also serves on the Barack Obama Foundation's Board of Directors.
"BEA's mission reflects what much of my life's work has been about – making direct, lasting change to ensure that every American has the opportunity to create generational wealth, including those from disinvested communities," said John W. Rogers, Jr., BEA Advisory Board Member. "I'm excited to join my friends and colleagues at BEA to help advance their efforts to create more sustainable economic prosperity for Black businesses, families, and people."
Brian Mathis is a founding partner of Pine Street Alternative Asset Management and co-founder and Senior Advisor of C Street. He brings significant financial sector expertise to the BEA Advisory Board, including hedge fund, private equity, and venture capital experience, globally. Mathis serves on the Board of Directors of Ares/Black Creek Diversified Property Fund, NewHold Investment Corporation (NASDAQ: NHICU), and Vericast, and is a member of the Council on Foreign Relations.
"The Black Economic Alliance is uniquely situated to influence real, systemic economic change for Black people across the country," said Brian Mathis, BEA Advisory Board Member. "I care deeply about the fight for racial and economic equity, and I look forward to working with this innovative group of influential leaders to advance generational wealth building for Black people."
Natalie Tran is the executive director of the Creative Arts Agency (CAA) Foundation, harnessing the resources of one of the nation's leading entertainment and sports agencies to create positive social change. Tran also co-led the formation of the Civic Alliance, a nonpartisan business coalition of leading companies working together to build a future where everyone can participate in shaping our country.
"BEA's mission and collaborative approach to advancing equitable access to economic opportunities has already proven effective, and I'm looking forward to joining the ranks of this august group of changemakers," said Natalie Tran, BEA Advisory Board Member.
Jon Henes is the co-founder and CEO of C Street, a strategic advisory firm helping CEOs and C-suites maximize value through the power of diversity, equity, and inclusion. Henes is also the co-founder of the Foundation for Education in Honduras (FEIH) and the Chair of the Board of the Vice President's Residence Foundation. He serves on the Board of Directors of FEIH, CaringKind, and the Heart of Alzheimer's Caregiving, as well as on the Board of Trustees of Union College.
"I'm honored to join the new and existing BEA Advisory Board members in our efforts to drive economic progress for Black communities," said Jon Henes, BEA Advisory Board Member. "It's incumbent on all of us to work tirelessly to advance racial equity and inclusion in Corporate America."
###
About the Black Economic Alliance
The Black Economic Alliance is a coalition of Black business leaders and allies committed to driving economic progress for the Black community through public policy, advocacy, and engagement with government and business leaders. Led by a board that includes executives from a range of industries including media, finance, pharmaceutical, nonprofit, and tech, BEA uses its collective power and business acumen to advance policies that will improve work, wages, and wealth for Black Americans. | https://blackeconomicalliance.org/