This month, the Center for Black Entrepreneurship (CBE) was honored to host Deputy Secretary of the U.S. Treasury Wally Adeyemo, U.S. SBA Administrator Isabella Casillas Guzman, U.S. Rep. Nikema Williams (GA-05), and other state and local officials. The U.S. Department of the Treasury issued a Readout on Deputy Secretary Adeyemo and SBA Administrator Guzman's visit.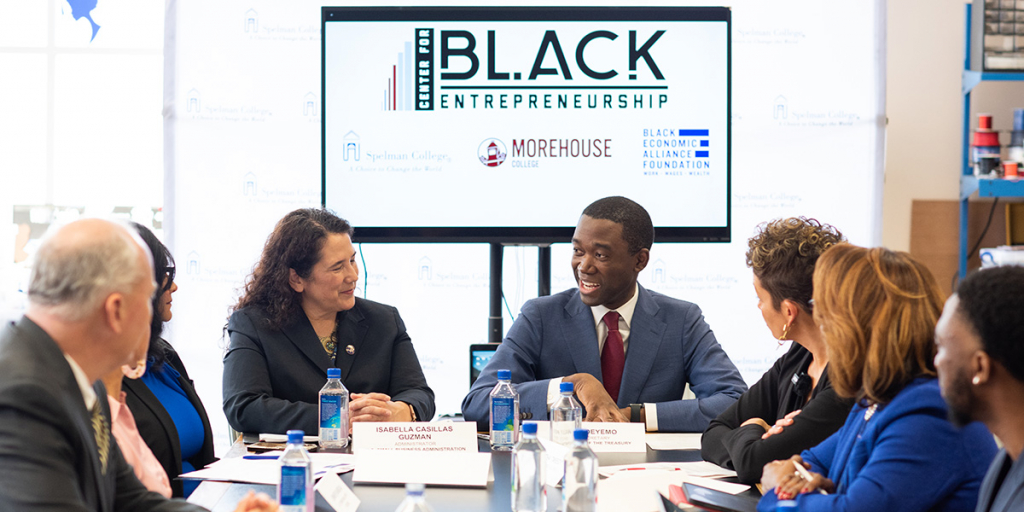 Following a CBE student showcase, Black Economic Alliance's CEO Samantha Tweedy moderated a roundtable discussion with Deputy Secretary Adeyemo and Administrator Guzman titled "Breaking the Glass Ceiling: Policies, Programs, and Practices Advancing Black Entrepreneurship, Growth and Opportunity," which centered solutions that will improve access to capital in historically underserved communities and the importance of supporting Black businesses and workforce development programs.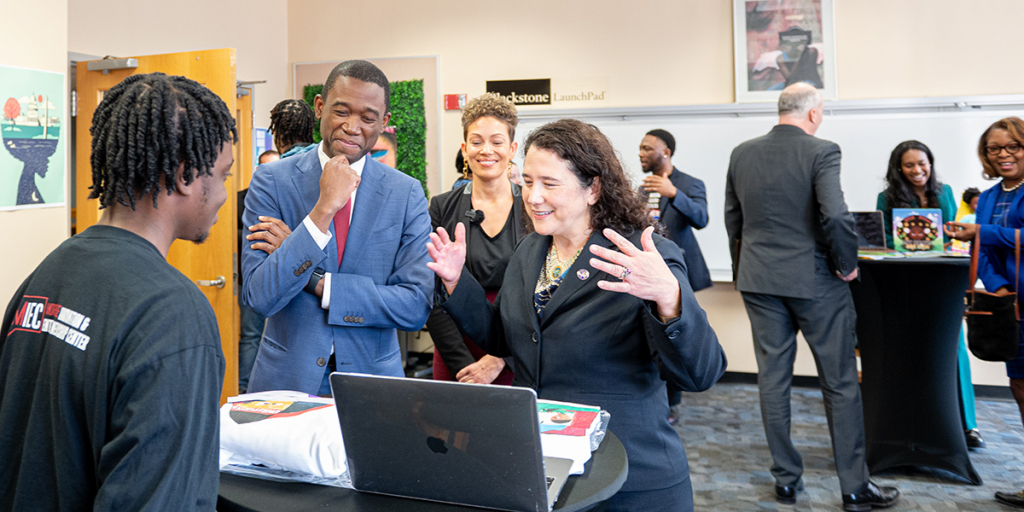 In addition to the Biden Administration officials and U.S. Rep. Williams (GA-05), the conversation included Dr. Helene Gayle, President of Spelman College, Lisa Gordon, City of Atlanta COO, Georgia Department of Community Affairs Commissioner Christopher Nunn and Dr. Grant Warner, Bank of America Endowed Professor of Entrepreneurship and CBE Director, local business owners and non-profit leaders.
The discussion highlighted the need for an entire ecosystem designed to support and invest in a new class of Black entrepreneurs – an ecosystem the CBE is actively building.
We are thankful for the partnership of federal leaders like Deputy Secretary Adeyemo and Administrator Guzman who are leading the way to the systemic changes needed to close the racial entrepreneurship gap. We will continue to work with them to identify opportunities to reshape policies and programs to drive entrepreneurship and economic mobility in the Black community.