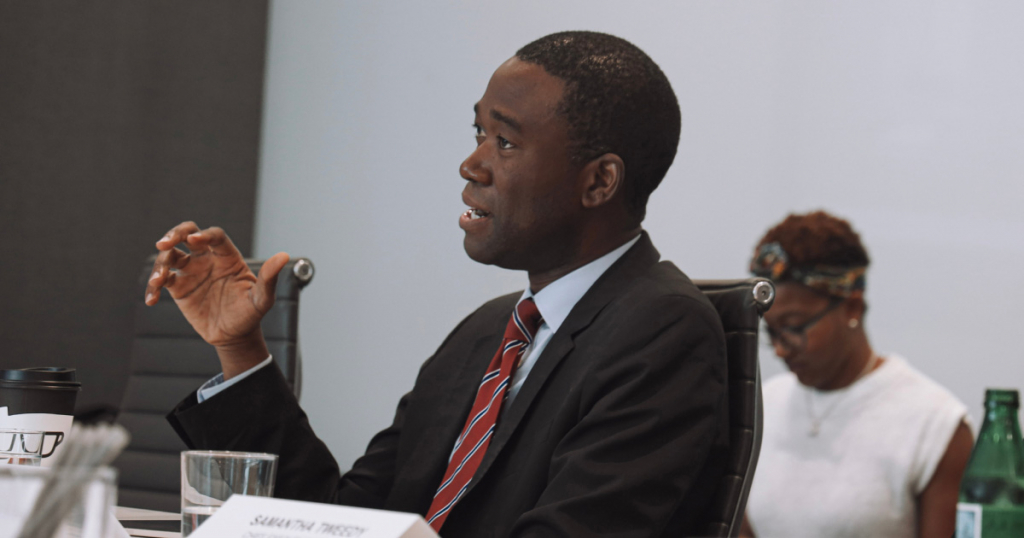 FOR IMMEDIATE RELEASE
Contact:
Ralph Mays
Rmays@skdknick.com
New York, NY – (June 21, 2023) Yesterday, Deputy Secretary of the U.S. Treasury, Wally Adeyemo, and the Black Economic Alliance (BEA), a nonpartisan coalition of Black business leaders and aligned advocates, hosted the "Empowering Black Prosperity" roundtable in New York City. The closed-door discussion, which included members of BEA's Board and network, facilitated an open dialogue about strategies to enhance work, wages, and wealth for Black families, communities, and businesses.
Read Deputy Secretary Wally Adeyemo's opening remarks as prepared here.
Deputy Secretary Adeyemo opened the roundtable with an update on recent Treasury initiatives. He discussed the Biden administration's commitment to fair tax administration, investments in Minority Depository Institutions and the impact of small business support. BEA and its affiliates discussed pressing issues with the Deputy Secretary, including current market challenges and opportunities, motivating factors for private sector engagement in diversity, equity, inclusion, and accessibility (DEIA) issues, and the role of public-private partnerships in promoting inclusive growth.
The discussion also examined strategies to scale Black-owned businesses using federal tools such as the Emergency Capital Investment Program (ECIP), the State Small Business Credit Initiative program (SSBCI), Small Business Administration (SBA) programs, and opportunities created by the Inflation Reduction Act (IRA), the Creating Helpful Incentives to Produce Semiconductors Act (CHIPS Act), and the Bipartisan Infrastructure Law (BIL).
Deputy Secretary Adeyemo and BEA's Co-Chairs closed the roundtable by emphasizing the shared commitment between the Treasury Department and BEA to nurture an economic environment that supports Black prosperity.
###
About the Black Economic Alliance
The Black Economic Alliance is a coalition of Black business leaders and aligned advocates committed to driving economic progress for the Black community through public policy, advocacy, and engagement with government and business leaders. Led by a board that includes executives from a range of industries including media, finance, pharmaceutical, nonprofit, and tech, BEA uses its collective power and business acumen to advance policies that will improve work, wages, and wealth for Black Americans. | https://blackeconomicalliance.org/