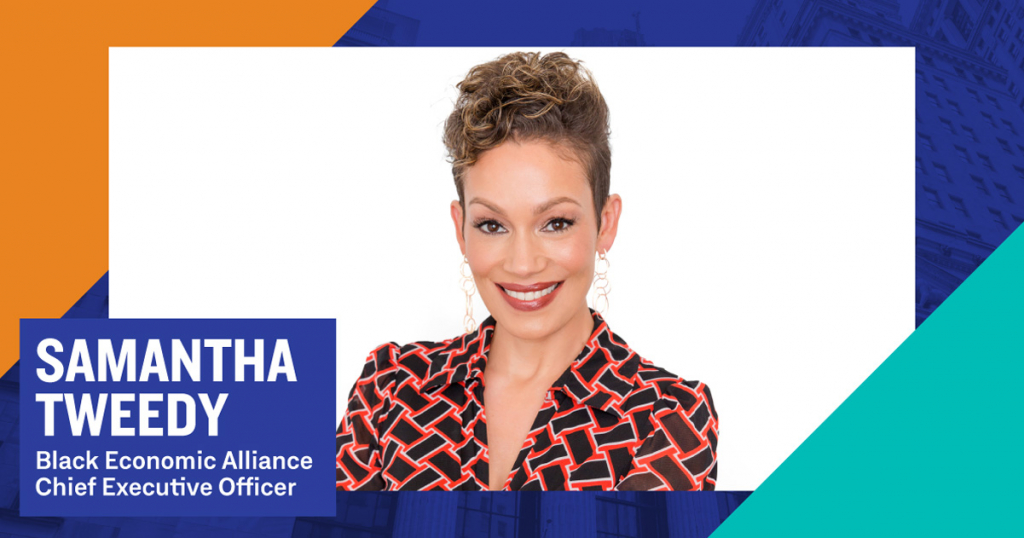 Newly created position reflects expansion and alignment of BEA's political, policy, and programmatic work to drive Work, Wages, and Wealth for Black Americans
David Clunie departs as Executive Director and will be appointed to BEA Advisory Board
For Immediate Release: November 21, 2022
Media Contact: Ralph Mays, rmays@skdknick.com
Washington, D.C. – (November 21, 2022) – The Black Economic Alliance (BEA), a nonpartisan group of Black business leaders and aligned advocates working to expand the political and economic power of the Black community, today announced the appointment of Samantha Tweedy as its inaugural Chief Executive Officer, effective January 1, 2023. Executive Director David Clunie informed the Board of his intention to return to the private sector and will depart BEA at the end of the year, joining BEA's Advisory Board to continue to support BEA in its next chapter.
Tweedy, a Yale Law-trained attorney and accomplished executive, strategist, and fundraiser, currently serves as President of the Black Economic Alliance Foundation. She will assume the newly-created position of CEO, which reflects the BEA Board of Directors' strategic decision to align BEA's political, policy, and programmatic work in the service of its unified agenda: advancing work, wages, and wealth across the Black community and, in so doing, strengthening the entire American economy. In this role, Tweedy will oversee all of BEA's entities: the 501(c)(3) Foundation; the 501(c)(4) social welfare organization; the BEA Entrepreneurs Fund; and the BEA PACs.
During his three years as BEA's Executive Director, Clunie grew the organization's influence and profile and expanded its reach politically. Under his leadership, BEA raised millions of dollars for endorsed candidates, including the historic Biden-Harris ticket, mobilized business leaders to advocate for the preservation of voting rights, and launched transformational programming to accelerate Black business ownership, including the newly created Center for Black Entrepreneurship. BEA played a critical role in identifying candidates of color for key economic positions within the Biden Administration, ensuring racial equity would be a top economic priority. BEA also helped to secure historic legislation investing billions in Black businesses and communities during the pandemic.
"Samantha has devoted her career to increasing economic mobility for Black Americans and is the ideal leader to drive BEA's next chapter, as we focus on the levers of economic mobility and deepen our political impact," BEA Board Co-Chair and Executive Chairman and CEO of Cerevel Therapeutics Tony Coles said. "The Board is immensely grateful to David for his leadership, which was instrumental in elevating BEA's influence and impact during this critical time."
"Under Samantha's leadership, we will align our work with public, private, and social sector leaders, strengthening our ability to influence policy across sectors to improve work, wages, and wealth for Black Americans," BEA Board Co-Chair and Managing Partner and Co-Founder of Recognize Charles Phillips said. "We thank David for his significant contributions, which have led BEA to tremendous success driving cross-sector progress improving work, wages, and wealth."
"I am honored to lead BEA into this next phase of growth," incoming BEA CEO Samantha Tweedy said. "Since its inception, BEA has had a singular ability to harness the collective firepower of Black business leaders to improve economic prosperity across the Black community. I look forward to deepening BEA's political impact and growing our policy and programmatic efforts in service of expanding the political and economic power of the Black community."
###
About Samantha Tweedy
Tweedy brings two decades of experience building and leading transformative racial and economic justice initiatives at the intersection of the public, private, and philanthropic sectors. While serving as inaugural President of the Black Economic Alliance Foundation, Tweedy raised tens of millions of dollars and launched strategic partnerships with the foremost corporate, philanthropic, research, and academic institutions in the country, in service of identifying and executing solutions that will grow Black economic prosperity. Prior to joining the BEA Foundation, Tweedy served as the first Chief Partnerships and Impact Officer at the Robin Hood Foundation, one of the nation's largest anti-poverty organizations. There, she developed and directed the Power Fund to invest in nonprofit leaders of color. Previously, Tweedy served as the first Chief Advancement Officer at Uncommon Schools, a network of more than 50 public charter schools serving historically disadvantaged students of color, and also founded and directed an elementary school that won the National Blue Ribbon School Award for its success in closing racial and socioeconomic opportunity gaps.
After graduating from Yale Law School and Duke University magna cum laude, Tweedy began her career as an attorney at Simpson Thacher & Bartlett LLP, where she worked on landmark school equity litigation to close the public school spending gaps that disproportionately impact students of color and also practiced commercial litigation.
About the Black Economic Alliance
The Black Economic Alliance is a coalition of Black business leaders and allies committed to driving economic progress for the Black community through public policy, advocacy, and engagement with government and business leaders. Led by a board that includes executives from a range of industries including media, finance, pharmaceutical, nonprofit, and tech, BEA uses its collective power and business acumen to advance policies that will improve work, wages, and wealth for Black Americans. |https://blackeconomicalliance.org/
About the Black Economic Alliance Foundation
The Black Economic Alliance Foundation is the nation's leading organization harnessing the collective expertise and influence of Black business leaders and aligned advocates to build economic prosperity and generational wealth for the Black community. We partner with leaders across the public, private, and social sectors to champion policy reimagination, develop investment and philanthropic programs, commission research, and elevate national understanding of the inextricable link between the health of the Black economy and the entire American economy. The BEA Foundation is the 501(c)(3) non-profit affiliate of the Black Economic Alliance, a nonpartisan coalition of Black business leaders and allies committed to advancing work, wages, and wealth in the Black community. |foundation.blackeconomicalliance.org
About the Black Economic Alliance PAC
The Black Economic Alliance PAC is a coalition of business leaders and aligned advocates committed to economic progress and prosperity in the Black community with a specific focus on work, wages, and wealth. We use our collective power and business acumen to advance candidates and policies that will create economic empowerment in the Black community. | https://pac.blackeconomicalliance.org/