The BEA PAC compiled data from its 2020 Black Voter Survey and publicly available resources that indicate undecided Black voters can flip the U.S. Senate and make up the majority of Democratic voters in Georgia and Mississippi and the near majority in South Carolina
WASHINGTON, D.C. (October 26, 2020) – Today, the Black Economic Alliance PAC (BEA PAC), a nonpartisan group of business leaders that supports candidates who prioritize improved economic conditions for Black people, released a report on the impact Black voters can have on the outcome of the 2020 election. The report is based on results from the BEA PAC's 2020 Black voter survey conducted by HIT Strategies and publicly available data and national exit polls focusing on battleground states like Georgia, Mississippi, and South Carolina. The report's biggest takeaways indicate that Black voters have the potential to change the current political makeup of the U.S. Senate and more if they mirror or exceed the historic turnout that turned the tide in the 2008 and 2012 General Elections.
The report's key findings are:
1. The Power of the Black Vote
Black voters can be the most powerful voters in America. The influence and power of the Black vote have directly impacted election turnouts across the country, especially in battleground states like Florida, Pennsylvania, and Georgia. According to the Pew Research Center, Black voters account for nearly 13 percent of the national electorate, up from 11.5 percent in 2000.
Young Black voters, ranging from ages 24 – 39, account for 29-40 percent of eligible Black voters in Georgia, Wisconsin, Florida, North Carolina, Michigan, Arizona, Pennsylvania, Ohio, and Iowa.
Sixty-three percent of Black voters are expected to cast their ballots this year, tracking for what could meet or exceed previous record turnout in 2008 and 2012.

2. Flipping and Diversifying the U.S. Senate
Three leading Black candidates are within striking distance of winning their U.S. Senate races in South Carolina, Georgia, and Mississippi if just a fraction of undecided Black voters cast their ballots for them.
In South Carolina, first-time candidate Jaime Harrison is locked in a virtual tie with longtime Republican incumbent Lindsay Graham.
In Georgia, Raphael Warnock, pastor of Ebenezer Baptist Church in Atlanta, is leading the pack by nearly double digits over Republican incumbent Kelly Loeffler and Republican congressman Doug Collins.
In Mississippi, Mike Espy has made up a considerable deficit in just the last few months against Republican candidate Cindy Hyde-Smith.

3. The Majority of Democratic Voters in Georgia and Mississippi, and a Near Majority in South Carolina are Black
CNN exit polls from 2016 indicate that Black Americans comprise more than 50 percent of the Democratic voters in Georgia and Mississippi and make up a near majority of Democrats in South Carolina.

4. The Power to Make a Difference
The vast majority of Black voters in Wisconsin, North Carolina, and Michigan feel their vote has the power to make a real difference in their communities. However, younger Black voters do not perceive their vote to be as powerful as older Black voters do.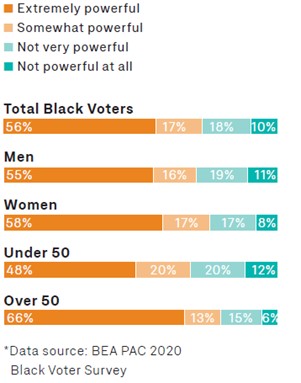 5. Top Economic Issues for Black Voters
When asked to identify the issues of greatest importance to the Black community, Black voters surveyed in Wisconsin, North Carolina, and Michigan highlighted access to affordable healthcare, helping those in poverty, and eliminating employment discrimination as top policies of concern. Other top issues included ending predatory lending, investment in high-skills job training, access to capital and grants for Black owned-businesses and raising the minimum wage.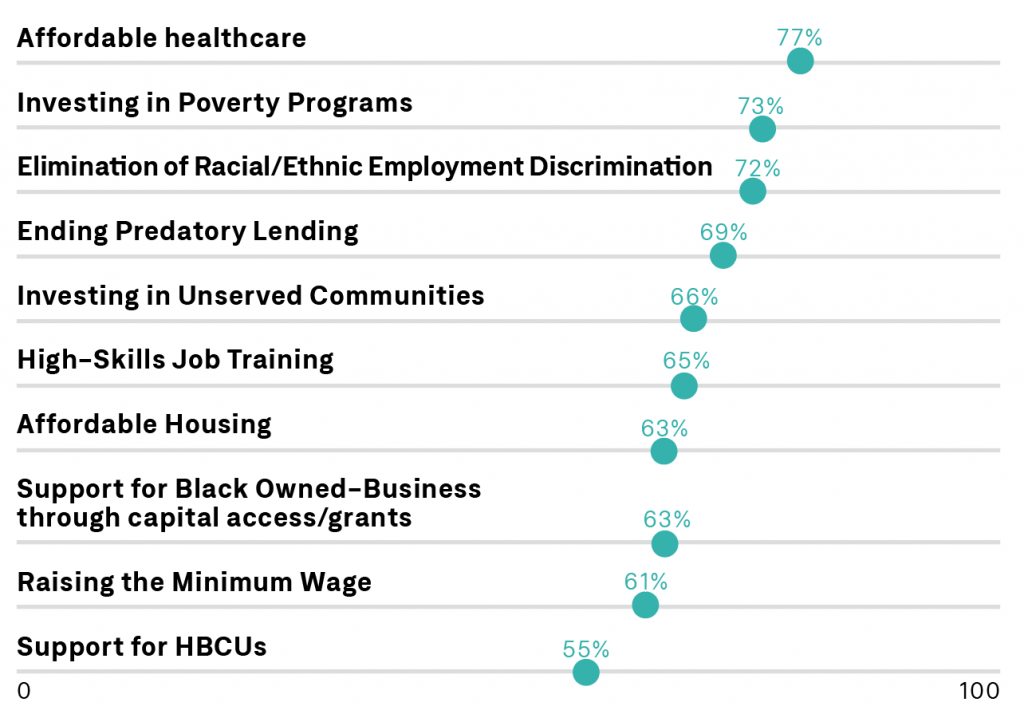 "This is the most consequential election of our lifetime. We cannot sit on the sidelines with our lives and futures on the ballot. Now more than ever, Black voters want and need to be heard. We must get out the vote to ensure that our elected leaders are more accountable to Black people and will counteract the systemic inequality that has widened the racial wealth gap and work hard to expand economic opportunity for Black Americans," said David Clunie, Executive Director, Black Economic Alliance. "This report underscores the power that Black voters have to decide the outcome of who will represent us in the White House, Congress, and all elected positions in state and local races."
"These numbers show what we've long known – Black voters have the collective power to demand that our elected leaders include communities of color in every part of American life," said Michael Steele, Former RNC Chairman, Senior Advisor to the Lincoln Project, and BEA Advisory Board Member. "It's important to engage with leaders who take the concerns of communities of color seriously and are willing to listen and act on our behalf. Our vote matters, and we must make sure to get out the vote in record-shattering numbers to demonstrate that."
"Black voters are the most powerful electorate in America. As the numbers show, Black voters can change the trajectory of this nation when we stand together," said Terrance Woodbury, Partner, HIT Strategies. "Achieving real change in government representation absolutely requires running up the margins with Black voters to 2008 and 2012 levels, and we have work to do to achieve that in the final stretch of this unprecedented election cycle."
The findings are based on a survey commissioned by the BEA PAC and conducted by HIT Strategies, an innovative research firm specializing in shifting voting and consumer patterns in America. The survey included 1,528 Black registered voters across North Carolina, Wisconsin, and Georgia and was conducted between September 16 – 26, 2020.
The report is being released ahead of a special virtual town hall that BEA PAC is co-hosting along with The Lincoln Project, the NAACP, National Urban League, and BlackPAC tonight at 7 pm ET. The virtual town hall will bring together Black voices from across the political spectrum to urge Black Americans to get out the vote. Panelists will include President of the NAACP, Derrick Johnson, President of the National Urban League, Marc Morial, Executive Director of BlackPAC, Adrianne Shropshire, and Lincoln Project Senior Advisor Tara Setmayer. You can RSVP for the event here.
BEA PAC is nonpartisan and works to engage candidates who prioritize policies that improve work, wages, and wealth for Black people. BEA PAC focuses its support and resources on candidates in highly competitive races where Black voter turnout will significantly impact the outcome of the race. BEA PAC has endorsed several qualified candidates for office this year, including Jaime Harrison, Raphael Warnock, and Mike Espy for U.S. Senate. For a full list of BEA PAC's 2020 endorsements, click here. If you'd like to support BEA PAC's advocacy for Black economic progress and support candidates committed to improving work, wages, and wealth for Black Americans, click here.
If you'd like to support BEA PAC's advocacy for Black economic progress and support candidates committed to improving work, wages, and wealth for Black Americans, click here.